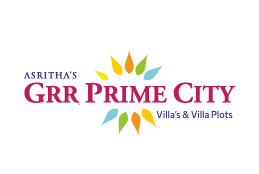 GRR Prime City
Premium Gated Community Plots in Chemudugunta
Property Info
60 Acres NUDA Layout
Ready to Occupy
Approved By
NUDA Approved Layout
Type of Property 
Villa Plots
Project Name
GRR Prime City – Luxurious Gated Community Villa Plots 
Overview
Discover premium open plots for sale in Maheshwaram, Hyderabad at our 14th Residency. Build your dream home with our luxurious villa plots in a gated community. Invest in your perfect balance of luxury and comfort today!
GRR, Prime City is a premium development offering luxurious villa plots located in the locality of Chemudugunta – Nellore spread over 60 acres. This development has received the approval of the Nellore Urban Development Authority (NUDA). It is a visionary creation of Asritha's Group designed to fulfill the aspirations of all sports enthusiasts, with a range of physical activities and sports facilities available. The green and perfect landscape of GRR Prime City features a 15,000 sq. ft. luxury clubhouse, swimming and baby pools, a kids' play area, a jogging and walking track, indoor games, a skating rink, a badminton court, a netted cricket hall, and a meticulously manicured herb garden. In addition, the development offers a senior citizen meeting zone and a host of other facilities.

The GRR Prime City layout is well-designed, with a 60ft wide entrance arch and 40ft and 60ft wide internal roads with solar fencing. The development benefits from underground electricity and drainage systems, modern street lighting, a compound wall, and 24/7 high-security measures. Furthermore, GRR Prime City is 100% Vastu compliant, promoting a harmonious and balanced living environment. The landscape is full of green spaces, paved walkways, an airy amphitheater, and grassy lawns where the body and soul roam free.

100% Vaastu

Yoga, Meditation Hall
40',60' Wide with Solar Fencing

Underground Electricity & Drainage

Modern Street Lights
Sport and Children's Park
Open Gym
Solar Fencing
Compound Wall
24/7 High-Security