Asrithas Group Jewels County High Rise Gated Community Apartments
Beeramguda, Hyderabad
Property Info
5.65 Acres, 4 Towers, 12 Floors, 792 Flats
Approved By
HMDA & RERA,
TS-RERA No: P01100002614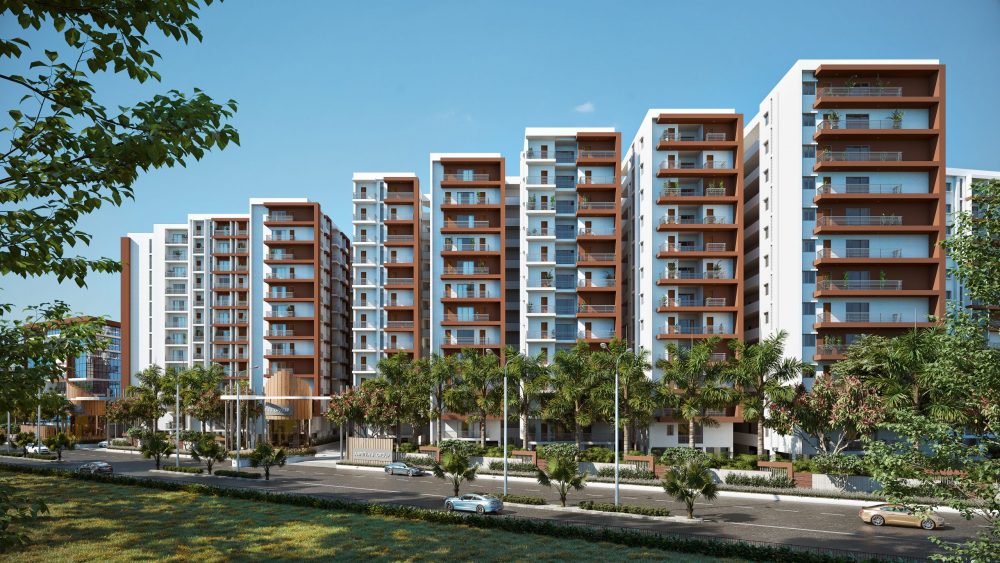 Project Name
Jewels County
High Rise Gated Community Apartments
Amenities
60+ Luxury Amenities
Apartment Type
2 BHK & 3 BHK
Area
2 BHK – 1164 to 1325 Sft
3 BHK – 1410 to 2107 Sft
Overview
Welcome to Asritha's Group Jewels County High Rise Gated Community Apartments – Live your life happily and peacefully in a good place! The Delight of Healthy, Happy & Peace Jewels County is offering 2 bhk and 3 bhk flats developed with multiple features built for those seeking a sustainable, peaceful and eco-friendly lifestyle."
2 bhk & 3 bhk Luxury flats for sale in Kistareddypet, Patancheru, Hyderabad.

Bakery/ Coffee Shop
Super Market
Yoga / Meditation
Gym / Saloon / Spa
24/7 Nursing Facility / Doctor On Call
Pharmacy
Banquet Hall
7 Guest Rooms
Visitor Parking/ Driver Rest Rooms
Co-Working Lounge
Indoor Games
Library
Creche
All Round Walk / Jog Track
Swimming Pool
Basket Ball Court
Tennis Court / Badminton Court
Cricket Practice Nets
Senior Citizen Meeting Zone
Kids Play Area / Skating Rink
Children Park/ Central Park
Car / Bike
Wash Area
100% Vastu Compliant
24x7 All Round Security With Cctv
Pickup & Drop Facility To Hitech City
Grand Entrance Lobbies & Drive Ways
Gallery Item
Gallery Item
Gallery Item
Gallery Item
What is Asrithas Group – Jewel County?
WISH TO HAVE AN ELEVATED VIEW OF THE CITY, A GOOD NUMBER OF LIKE-MINDED PEOPLE AROUND AND YET BE WHERE ALL THE ACTION IS? YOUR WISHFUL THINKING GETS TRUE WITH ASRITHAS JEWELS COUNTY, ONE OF THE LARGEST GATED COMMUNITY PROJECTS IN THE AREA. 
WITH 5.65 ACRES OF COMPANY LAND HAVING 4 MAGNIFICIENT TOWERS, 3 CELLAR PLUS PARKING AND 12 UPPER FLOORS. THE PROJECT HAS 45K SQUARE FEET CLUB HOUSE WITH 60+ WORLD CLASS AMENETIES.
Where is Asrithas Group – Jewel County located?
THE PROJECT IS STRATEGICALLY LOCATED AT MOST UPCOMING AREA CLOSE TO MUMBAI HIGHWAY IN KISHTAREDDYPET, NEAR BEERAMGUDA. YOU CAN NOW ENJOY A FULL VIEW OF THE ORR AND THE WEST PART OF THE CITY. THE 5.65-ACRE MEGA PROJECT HOUSES 792 APARTMENTS MEASURING 1160 FT TO 1992 FT IN AREA.
What are the locational advantages of Asrithas Group – Jewel County?
VERY CLOSE TO BHEL, GACHIBOWLI, LINGAMPALLY RAILWAY STATION, MIYAPUR METRO STATION, AND JUST ADJACENT TO A 500-ACRE MEDICAL DEVICE PARK. MANY WORLD CLASS EDUCATION INSTITUTIONS ALSO SURROUND THE PROJECT AND MUMBAI HIGHWAY IS JUST 2 KMs AWAY FROM THE PROJECT.
How many towers and types of apartments does Asrithas Group – Jewel County have?
4 TOWERS – A – EMERALD, B-SAPHIRE, C – RUBY & D- OPAL.
FLAT AREAS RANGE FROM 1134 SFT IN 2 BHK CATEGORY TO 1992 SFT IN 3BHK CATEGORY TYPE
Are internal changes in the flat possible?
What are the amenities being provided in the Club House?
AMENITIES
5.65 ACRES PREMIUM GATED COMMUNITY WITH
40K SQ FT CLUBHOUSE WITH 792 FLATS
GROUND+7 FLOORS
G+12 FLOORS 1ST HIGH-RISE TOWER PROJECT
BAKERY/COFFEE SHOP
ALL ROUND WALK / JOG TRACK
SUPER MARKET
SWIMMING POOL
YOGA/ MEDICATION
TENNIS COURT/ BASKETBALL COURT
GYM/SALOON /SPA
BADMINTON COURT
24/7 NURSING FACILITY/
DOCTOR ON CALL/PHARMACY
CRICKET PRACTICE NETS
BANQUET HALL
SENIOR CITIZEN MEETING ZONE
7 GUEST ROOMS
KID'S PLAY AREA/ SKATING RINK
CHILDREN'S PARK/ CENTRAL PARK
COWORKING LOUNGE
24X7 ALL ROUND SECURITY WITH CC TV
CAR/BIKE WASH AREA
INDOOR GAMES
LIBRARY
100% VASTU COMPLIANT
CRECHE
PICKUP & DROP FACILITY TO HITECH CITY
GRAND ENTRANCE LOBBIES & DRIVEWAYS
VISITOR PARKING/ DRIVER RESTROOMS
When will construction of the project commence?
PROJECT CONSTRUCTION HAS COMMENCED ON 23RD FEB 2021
Will each tower construction happen simultaneously?
PHASE WISE CONSTRUCTION SCHEDULED
What will be the initial booking amount?
When will I get an allotment?
ONCE THE BOOKING AND MINIMUM 20% PAYMENT IS MADE THE BOOKING WILL BE ALLOTTED WITH AN AOS (AGREEMENT OF SALE) THE FINAL HAND OVER WILL BE ONLY AFTER THE COMPLETE PAYMENT SCHEDULE AND REGISTRATION OF THE FLAT
Is the property clear of all encumbrances?
Has the project obtained all statutory approvals?
What is the completion schedule?
C & D BLOCKS WILL BE DELIVERED IN DEC 2023 WITH A 3 MONTHS GRACE PERIOD AND A & B BLOCKS WILL BE DELIVERED IN DEC 2025 WITH A 3 MONTHS GRACE PERIOD
Is the Project - Asrithas Group – Jewels County Project registered under HMDA & RERA?